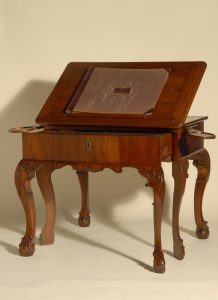 In the whole of the Foreign furniture present in the Museum's collections, furniture of English provenance is of particular relevance. The close connection between Madeira and England, initiated through the commercial exchange established at the end of the seventeenth century with the production and sale of wine, is also documented through the importation of pieces of furniture.
This set, representative of various English styles (Chippendale, Hepplewhite, Sheraton, etc.), is chronologically located between the eighteenth and nineteenth centuries, and includes several types: game tables, chairs, sideboards, tallboys, etc.
Scattered throughout the exhibition halls, we can find, for the most part, some examples of the Chippendale style – an expression that had been current since the mid-eighteenth century and used to refer to the furniture designed by the Englishman Thomas Chippendale and his contemporaries around 1750/70-, examples of George Hepplewhite influenced furniture, with its characteristic shield-shaped backs, amphorae and garlands of wheat ears, graciously intertwined by cleverly intertwined ribbons.