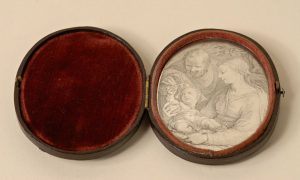 he cluster of pieces of Jewellery of the Quinta das Cruzes Museum is made up of 260 pieces. It includes specimens of a religious and profane nature, as well as small objects of female and male adornment, almost all of which were donated by César Filipe Gomes in 1946 and 1962.
Predominantly comprising pieces of European origin from the 17th to the 19th centuries, highlighting the set of pieces of Portuguese origin from the mid-18th century, this cluster arose from the interest of the donator, a goldsmith by profession, and who collected this estate during the course of a life devoted to collectionism, Jewellery and Goldsmithery.
In this collection you can still find various types such as rings, pendants, earrings, combs, buckles, objects of adornment and others, miniatures, snuffboxes, watches, etc., complementing the exhibition which seeks, as far as possible, to evoke social experiences.
As an expression of social status, mere personal effects, or used to perpetuate marking life events, Jewellery constituted one of the most common, universal manifestations of fascination for Mankind.
Prime materials were used to make it, with Portugal benefiting from the abundance of gold and gems deriving from a vast overseas territory which stretched from the Orient, to Brazil and Africa from the 16th century and until the end of the 18th century, a situation which was particularly conducive to the development of the Portuguese Goldsmithery and Jewellery.
Recently, research carried out by Bernardete Barros (Bernardete Barros. D. Guiomar de Sá Vilhena. Uma mulher do século XVIII. Funchal: S.R.T.C./C.E.H.A., 2001), established a possible relationship between the cluster of jewels belonging to the Quinta das Cruzes Museum and Lady Guiomar de Sá Vilhena as the probable original owner.
Also in the Jewellery cluster is an important collection of carvings and cameos which constitute the Glyptic cluster which is currently in exhibition at room 7.