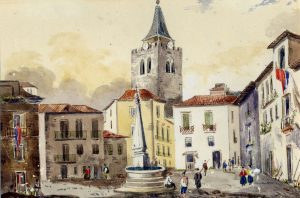 As occurred in other places, in Madeira too around the mid-19th century some resident and visiting artists were keen on portraying customs and landscapes, particularly through drawing, water colours and engraving, an extension of the romantic atmosphere which prevailed at that time, recreating the experience had in these Trips in Romantic Madeira.
Almost always arranged in albums, these «sketches», which sometimes were no more than fleeting travel notes, foreshadowed the «final artwork» of these albums which were so successful at the time.
The Drawings and Engravings cluster of the Quinta das Cruzes Museum encompasses a very interesting, cohesive set of pieces, bringing together a total of 446 pieces which included various authors, some of whom visited the Island of Madeira in the 19th century such as Andrew Picken, Emily Geneviève Smith, the Rev. James Bulwer, Frank Dillon, and those who merely came into touch with the reality of the Island through portrayals by others such as Rudolph Ackermann.
In this collection we can find the portrayal of various landscapes, customs and traditions, architectonic types, in an attempt to capture the "typical" experiences of Madeira, sometimes portrayed in the form of a caricature as is the case of the engravings by Ackermann.
And if these pieces are not always worthy as artistic expression, they undoubtedly constitute elements worthy of study and enhance heritage by dint of the huge source of historic information which is brought to us by beholding the impressions of the Island captured by the eye of foreign artists.
But also the wave of interest in these illustrations of the Madeiran reality takes a specific nature. As Dr. Elmano Viera reminds us in his articles dedicated to the Prints of Madeira, the movement commenced in December 1934 with an exhibition of Regional Industries organised by the Rotary Club of Funchal, which presented a collection of prints, in the main lithographic reproductions of paintings and drawings by foreign authors dated from the 19th century.
A year later in mid-1935, Rotary Club published an Album containing 224 prints (landscapes, customs, costumes, buildings and coasts), which included works by Picken, Dillon, Eckersberg and miscellaneous prints by Emily Geneviève Smith, Andrew Picken, R. Westall and W. Westall, inter alia.
In the wake of these initiatives, the General Council for the Autonomous District of Funchal (Junta Geral do Distrito Autónomo do Funchal) started buying prints and at Christmas 1949 it promoted an exhibition at the rooms of the then Quinta das Cruzes House Museum which had a great impact on the Madeiran public.