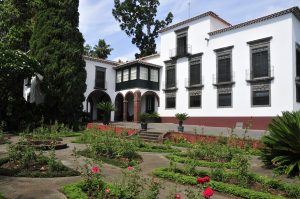 The memories of Quinta das Cruzes cross with the life and history of the city of Funchal. Documented as the last residence of João Gonçalves Zarco, the discoverer of the Island of Madeira, this Madeiran Estate, represents over 500 years of the history of the Island.
The Quinta das Cruzes is situated in a prime area of the city of Funchal on Calçada do Pico, below the Fortress of São João Baptista (dated from the 17th century), and adjoining the Santa Clara Convent (dating from the 16th century).
As a walled space, in the context of a historic, qualified urban mesh, it is, by definition, a Madeiran Quinta (Estate), comprising a residential villa, chapel, Casinhas de prazer (Summer houses) and a gardened park. The original house was the residence of João Gonçalves Zarco, the first donee captain of Funchal. This modest villa was subsequently extended by his son, João Gonçalves da Câmara using the builders who were working on the construction of the church of the Santa Clara Convent.
The Estate remained as the residence of the Câmara family until the 17th century, when it came into the possession of another distinct Madeiran family – the Lomelino. The origin of this family dates back to Urbano Lomelino, a trader of Genovese origin, whose presence on the Island dates back to 1476.
During the stay of the Lomelino family, Quinta das Cruzes underwent major alterations, to wit with the construction of the arcade of the main façade, the building of the Chapel dedicated to Nossa Senhora da Piedade (Our Lady of Pity) and, subsequently, the predominant body of the main building.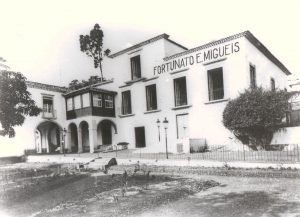 This space remained as the residence of the Lomelino for around two hundred years until the end of the 19th century. It was during the course of this century that the gardens acquired the appearance which still remains today with stone paths and stone fountains, in a Romantic conception of gardened spaces.
More recently in the 20th century, the villa was subject to a series of mishaps, the result of new functionalities and forms of occupation and also the reflection of major economic transformations in island society: it was head offices of the Funchal Philharmonic Band (1929-33), a medical surgery and an embroidery factory (1945-48?), an industry related with the Miguéis family, the last owner of Quinta das Cruzes.
---