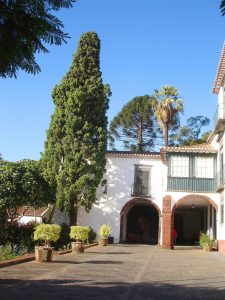 Located in the historical center of São Pedro and occupying about 1 hectare, Quinta das Cruzes – Housing, Chapel and Landscaped Garden- represents a qualified urban unit, whose image corresponds to a peculiar way of being on the island that exceptionally survives until nowadays.
This is an old and historical property that dates back to the beginnings of colonization and would have served as residence to the first "Capitães Donatários" and their successors. It was acquired for a museum in 1946 from the combining the initiatives of its first donor, César Filipe Gomes, and the official organisms of that time.
With a diversified collection, related to the Portuguese and European Decorative Arts that cover diverse nucleus like Painting, Sculpture, Ceramics, Drawings and Engravings, Furniture, etc, that are located chronologically between the fifteenth and the first half of the twentieth century.
The Quinta das Cruzes Museum, officially open to the public on May 28, 1953, thus corresponding to the continued memory of living the island, that we are.
---
---