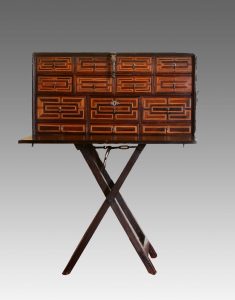 The Furniture cluster of the Quinta das Cruzes Museum, comprising 371 pieces, is highly diversified both in typological and chronological terms and in terms of their origin.
In this collection, furniture of English influence is particularly relevant, both in terms of pieces from England and pieces made "à la anglaise", in the main dating from the 18th and 19th centuries.
Also to be found in the group of foreign Furniture are pieces of origins as diverse as Spain, France, India and Japan.
The presence of Portuguese-made Furniture is grouped into three major clusters: regionally-made «sugar-box» Furniture, regionally-made Furniture but "à la anglaise", and also Portuguese Furniture contemporary stylistic evolution of the time. The latter includes a cluster comprising pieces from the 17th century (cabinets, chests, chairs etc.), as well as the cluster dating back to the 18th century (chairs, side tables, commodes, leather-bound chests), in the King João V and King José styles, and also some pieces which already denote the transition to the Queen Maria I period.
The donation of César Filipe Gomes was a major contribution to the Museum's Furniture Collection, complemented at a later date with the acquisitions' policy adopted.