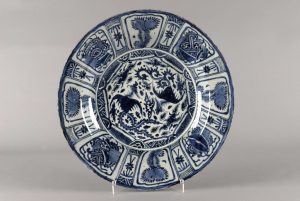 The Ceramics cluster of the Quinta das Cruzes Museum, comprising 699 pieces of Porcelain and Faience, is one of the most numerous and is also endowed with the greatest variety of types. The Faience cluster includes pieces from the 17th century of Portuguese and Spanish (Manises) production and pieces from the 18th and 19th centuries, mainly Portuguese-made, highlighting the productions of the factories of Darque, Miragaia, Massarelos, Caldas da Rainha and Rato.
The set of Porcelain pieces can be divided into those produced in Europe and those of oriental production. At the cluster of European origin are productions from Sévres, Meissen, Dresden, Worcester and Wedgwood, being the most predominant.
The set of Oriental Porcelains can, in the main, be dated back to between the 16th century and the end of the 18th century, with the last cluster corresponding to examples of the Chinese export porcelain.
The Ceramics that integrate the Museum collection were mainly donated by César Filipe Gomes, to which some acquisitions have been added which made up for chronological and stylistic lapses and which allow an ongoing, contextualised interpretation of the evolution of this collection.