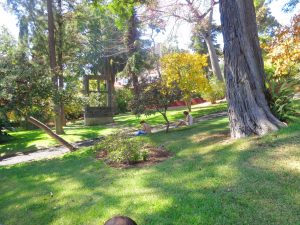 The 19th century brought with it the fascination of Romanticism, shown by the new design of the gardened spaces, the construction of the flower beds, the cobbled stone paths, the stone fountains, as well as the localisation of the casinhas de prazer (summer houses), melancholic spaces, well in keeping with the spirit of the age.
Quinta das Cruzes has a spacious gardened space of Romantic inspiration, surrounded by large century-old trees which flank the cobbled paths. The total area of the Quinta, around 1 hectare, includes a gardened, constructed area, caves, stone fountains, a vantage point overlooking the bay of Funchal and other small spaces.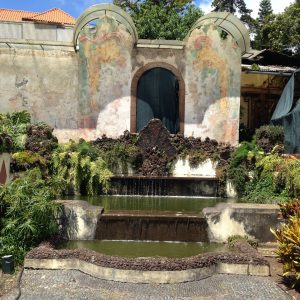 It is this space too which accommodates the mural painting (fresco) which can be found on the frontispiece of one of the fountains, discovered by accident in 1998 and dating back to the late 18th century.
The Garden, which constitutes an integral, vital part of this museological unit, also has the creation of botanic species endemic and indigenous to the Island of Madeira and an «Orchidarium».
This garden includes the network of Botanical Gardens of the Region, under the shared responsibility of the management of the Museum and of the Botanical Garden of Madeira, with the management of botanical/natural species – to be found in the park which is the competence of the respective entity – under the responsibility of the Secretaria Regional do Ambiente e Recursos Naturais/Instituto das Florestas e da Conservação da Natureza (Regional Secretariat for the Environment and Natural Resources/Institute of Forestry and Nature Conservation).