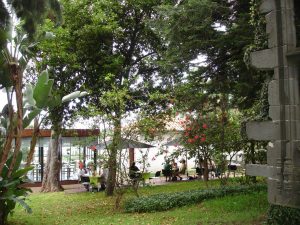 he Cafeteria/Restaurant Services of the Quinta das Cruzes Museum fit into a spacious intervention which included the construction and installation of the cafeteria service, the construction of a module for displaying the Orchestrophone and the recovery of the former casinha de prazer (Summer house).
The building derived from the interconnection of two volumes with the predominance of wooden and glass structures, for a natural integration into the surrounding green and gardened spaces.
This project, devised by the architect Ana Filipa Abrantes of the Direcção de Serviços de Património Cultural – Direcção Regional dos Assuntos Culturais (Directorate of Cultural Heritage Services – Regional Directorate of Cultural Affairs), was made feasible with the financial support of Community funds, to wit by way of the Improvement to the Quinta das Cruzes Museum project, jointly financed under POPRAM III/FEDER – European Regional Development Fund.
See the Cafeteria/Restaurant opening hours here.
---